Instagram, launched in 2010 has become the 4th biggest social media platform with over 1.386 billion people and 500 million active users daily, which makes a great social media platform to grow your business and personal brand.
In today's post, we'll be looking at how to get 100 free Instagram followers Organically and using third-party services like Mr Insta which is different from Instagram free followers bots that hurts your profile.
10 tips on how to grow your Instagram account organically
There are the 15 best strategies to grow your Instagram followers organically.
Optimize your profile
Use relevant Hashtags
Schedule your posts for peak engagemegt times
Steal your competitors' followers
Use Geotags to reach local audience
Ask for a follow back.
Hop on trends.
Run promos and giveaways
Share user-generated content(UGC)
Be consistent
Let's take an in-depth look at these methods for getting Instagram free followers daily.
1. Optimize your profile and Bio.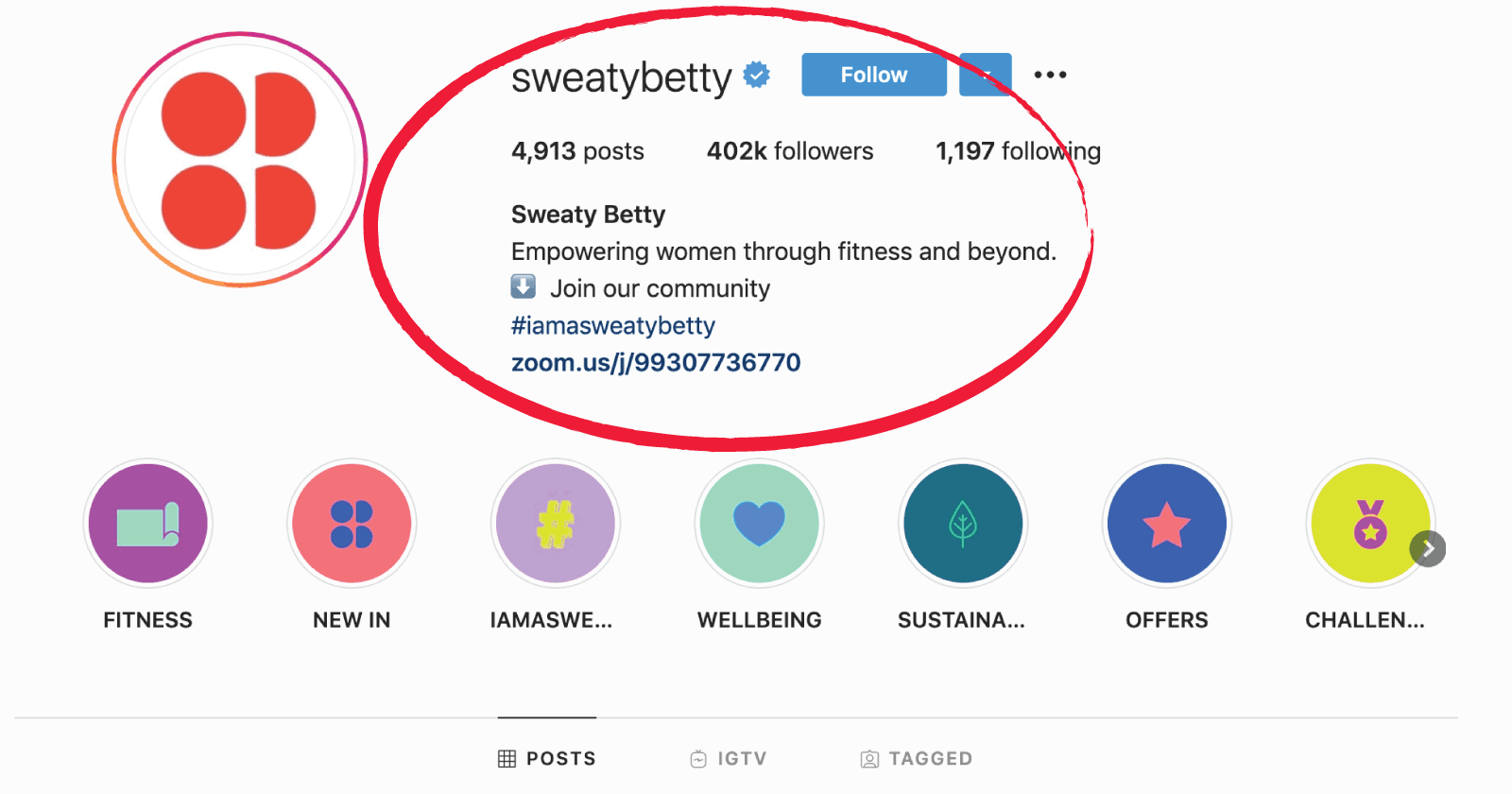 Think of your Instagram bio as the homepage of your website, It serves as a means of building brand identity. This is where you tell people whats your business or profile page is all about.
Your bio should contain a call-to-action, your branded hashtags, and a link to your website/landing page.
this is where users will discover who you or your brand are and whether they will follow you or not.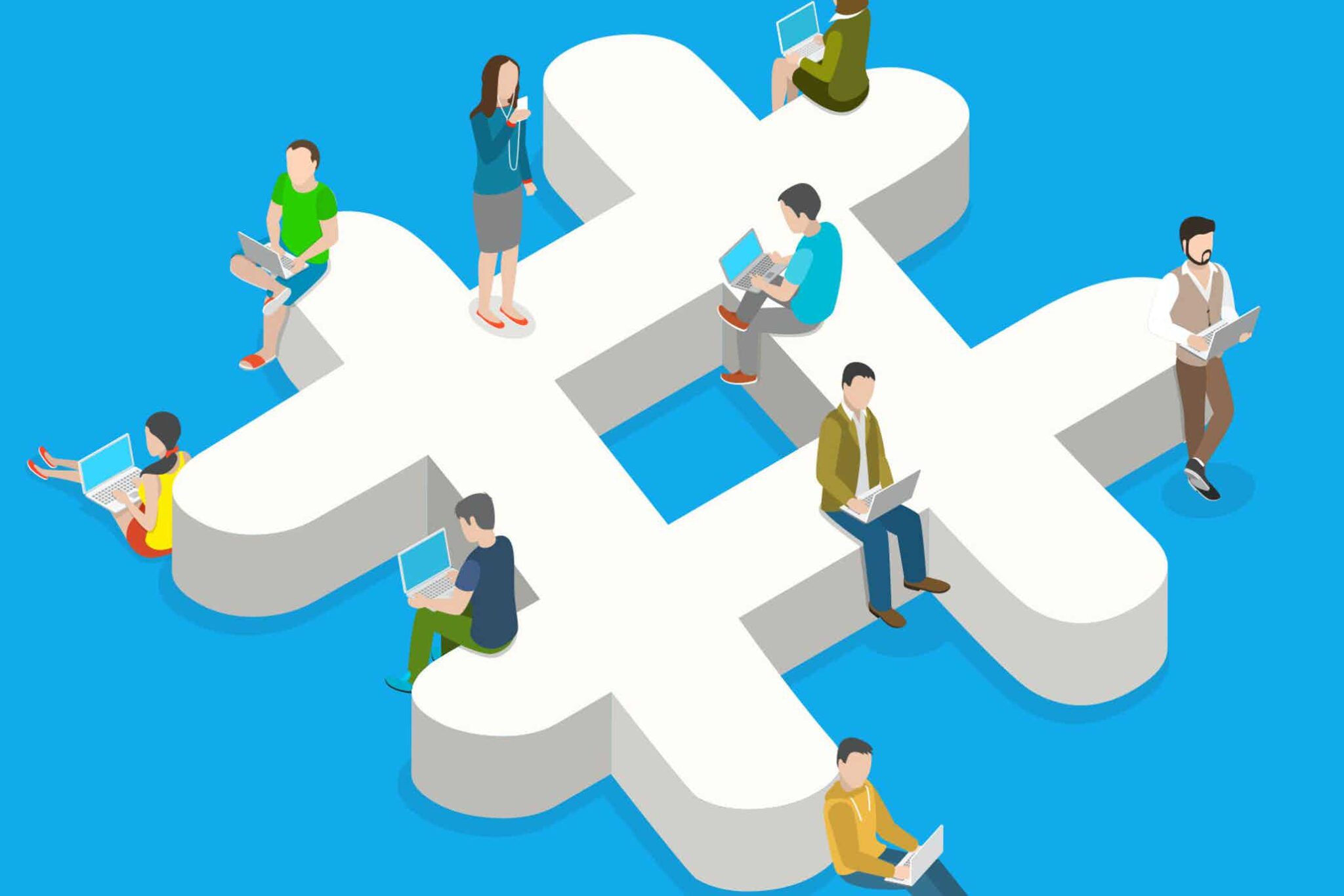 Posting new, interesting, and engaging photos and videos regularly is the most important requirement, but to begin growing your followers organically, you'll find hashtagging your photos and videos extremely important.
Hashtags make it easy for people searching for specific terms and topics to find your photos.
So which hashtags should you use? use tools like Hashtag generator to find hashtags that can help broaden your reach for more followers.
Hashtagging is a way to stay on top of what's currently relevant and trending within your space or niche.
3. Schedule your posts for peak engagement times.
Instagram revealed the secrets behind its algorithm in 2018 and emphasized the top three factors that influence how a post shows up in a user's feed.
These posts tend to get more engagements, interactions, and attract new Instagram followers which in turn leads to more sales for your business. These factors are.
Interest: Posts featuring content a user has previously shown interest in.
Recency: More recent posts get priority ranking than posts that are days older.
Relationship: Posts from mutual friends, family members and users with higher interactions will show up closer to the top of the feed.
It is vital to post specifically at peak engagement times of the day or week. If your post was recently made when users are typically more active, it's more likely it'll be seen.
To know your peak engagement periods you can get lots of great insight for free from Instagram analytics for business accounts.
With Instagram Analytics you'll have access to analytics that shows when your audiences are most active.
You may want to consider using a social media scheduling tool like HOOTSUITE or SOCIALPILOT to automatically publish your posts when your audience is the most engaged.
4.

Steal your competitors' followers

.
The first thing you need to do to steal your competitor's followers is to identify who your competitors are.
Chances are, you already have a pretty good idea of who your competitors are if you don't, start by making a list of the brands and companies you know are your actual competitors.
The next step is to go on the Instagram app and search the profiles of each of those competitors.
Any brand that has a small profile that is obviously abandoned or ignored can be removed from your list. The goal is to narrow your search down to just the brands that have an active presence on Instagram.
Click open their followers, The next step is to follow your competitor's followers, Like, Make it a goal to follow at least 50 people every hour, also, like and comment as much as you can.
How many users can you follow and at what rate?
Obviously, Instagram wants to keep users from abusing the system by spamming people with useless information. Therefore, they have some restrictions in place that keep you from following too many people.
If you try to follow too many people within a certain amount of time, you'll no longer be able to follow people.
Instagram won't ban your account. They will simply prevent the "follow" button from working.
Research has shown that there's a 35% follow back rate using this method.
Also researching your competitors Instagram accounts might reveal hashtags you haven't thought of, influencers you haven't reached out to, and other strategies that can inform your own.
To get more followers on Instagram sometimes is best you take advantage of the opportunity for growth that already exists around you.
Using Geotags on your post can help you reach local audiences. Try using your city or a relevant landmark around you that gets a lot of searches.
When people are searching for that nearby location, they will come across your content. If your content is quality enough, it could even be featured at the top of the search. This is also a great way to promote a local business on Instagram.
6. Ask for a follow back- guranteed instagram free followers.
It sounds obvious but deserves to be said, Don't be ashamed to occasionally ask your audience to follow you.
In the same way, YouTubers ask their viewers to follow and like their videos for the youtube algorithm, you can also ask viewers to follow you for more content.
"In the spirit of not being ashamed to ask, Kindly leave a comment and share this post with your friends and family thank you "
Sometimes people might really enjoy what you post on Instagram but need a nudge before they actually follow you.
You can also do this in your Instagram captions, work it into your content by pitching what your audience will get if they follow you or by hinting at content that's coming up that they won't want to miss. A guaranteed method to get Instagram free followers.
7. Hop on trends.
There is always a hot trending topic in the social media space or Metaverse. When an opportunity presents itself, take advantage by aligning your content with trending topics or hashtags.
This helps to boost discovery and engagement.
For instance, you can ride the wave of a trending topic or event, such as a holiday like the 4th of July, Christmas or thanksgiving days, in a relevant way to boost your engagement and brand awareness.
Or you can participate in one of the many trendy hashtags that exist, such as #Mondaymotivation, #Tgif etc…
A tip is to mark relevant events in your calendar so you can prepare quality content in advance.
Make sure that you join the conversation in a meaningful way, and when in doubt, ask yourself if your target audience would actually pay attention to the trend.
8. Run promos and giveaways
One of the most valuable types of comments you can get on any social media post, not just Instagram, is when one user tags a friend.
Not only do these comments contribute to your post's engagement, which in turn makes it favourable to the Instagram algorithm, but each tag brings you a new audience member who arrived via recommendation and who you could potentially win over as a follower.
One way to encourage this behaviour is by posting relatable content that begs for sharing (e.g., a meme that asks you to tag a friend who you think is smart ).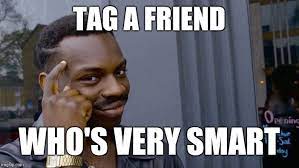 But a more reliable way to get your audience to tag their friends is by organising a giveaway that encourages your audience to tag a friend and follow your account to win.
For inspiration, here's an example of a successful product giveaway from MERAKI-NOTEBOOK that incentivizes people to follow its account and tag a friend for the chance to win free products.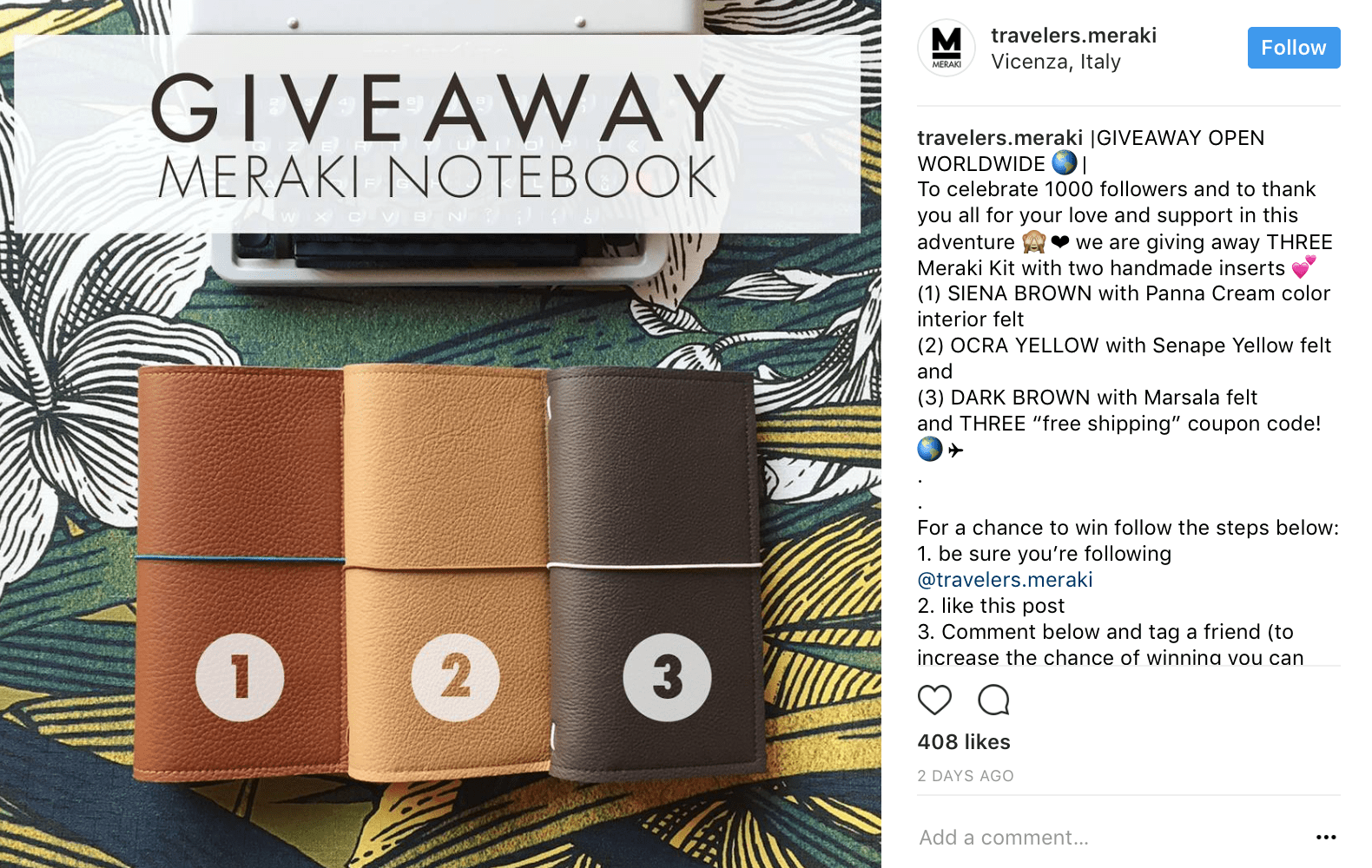 When you make your Instagram followers happy, you see the payoff in audience growth immediately. We've given you plenty of tips for brainstorming and scheduling content, so put them into practice in a way that feels natural in your brand voice. In other words, avoid seeming needy, sales-driven or robotic.
Provide content to your followers as if they were friends on your personal feed: this might include posting memes, inspirational content, or just re-sharing interesting photos or artwork (all properly credited, of course) that can give your followers a little mental pick-up during the day.
9. Post at least 2x daily
The most popular Instagrammers post a lot of pictures daily an average of about 5 posts per day.
There is a direct correlation between how often you post and how many followers you have. Don't stick to photos only, You can also get a lot of engagement from posting videos.
Also, try to post at least 5-30 Instagram stories per day… Wow. seems like a lot of stories initially but it pays off big time.
Your Stories will cycle automatically like a video playlist. Even though each story lasts only 15 seconds, you can string them together to form a long video.
10 Be consistent.
And last but not least is to repeat these actions on a consistent basis. It's not enough to post once or twice a week, you are almost guaranteed to lag behind your competitors.
If you're lucky enough to get users following you in the beginning, you don't want to make them forget they followed you in the first place.
Keep to a regular posting schedule. Typically, be fun and natural (it's social media), avoid spamming your followers with too many sales posts.
Bonus Instagram tip: tagging Products in Images & Videos Will Help to Drive Conversions
If you're selling a product, take advantage of Instagram's tagging feature.
Businesses can tag photos or videos with product links.
To use this feature, you must have a business page on Facebook complete with a product catalogue.
It's a great user experience for users, and it's a huge win for businesses looking to drive conversions seamlessly.
Conclusion.
If you follow the ten tips on how to grow your followers on Instagram, we can guarantee that you'll be killing it in the Instagram game in 3 months or less.
this is a steady way to get instagram free followers over time.
However, if you need faster and immediate results in terms of increasing your Instagram followers head over to MRINSTA.COM to buy real targeted Instagram followers.
Need help manging your social media account? check out our social media management services