In this article, you are going to learn how to create a landing page that converts. This knowledge could be what you need to drive your sales volume to the roof.
But before we dive into it, what is a landing?: A landing page is basically a page where your audience "lands" after they click on your ads on 'Google" "Facebook" etc… It is important to get it right once as it could make or break your online marketing campaigns
See the image below for an example of what a landing page looks like…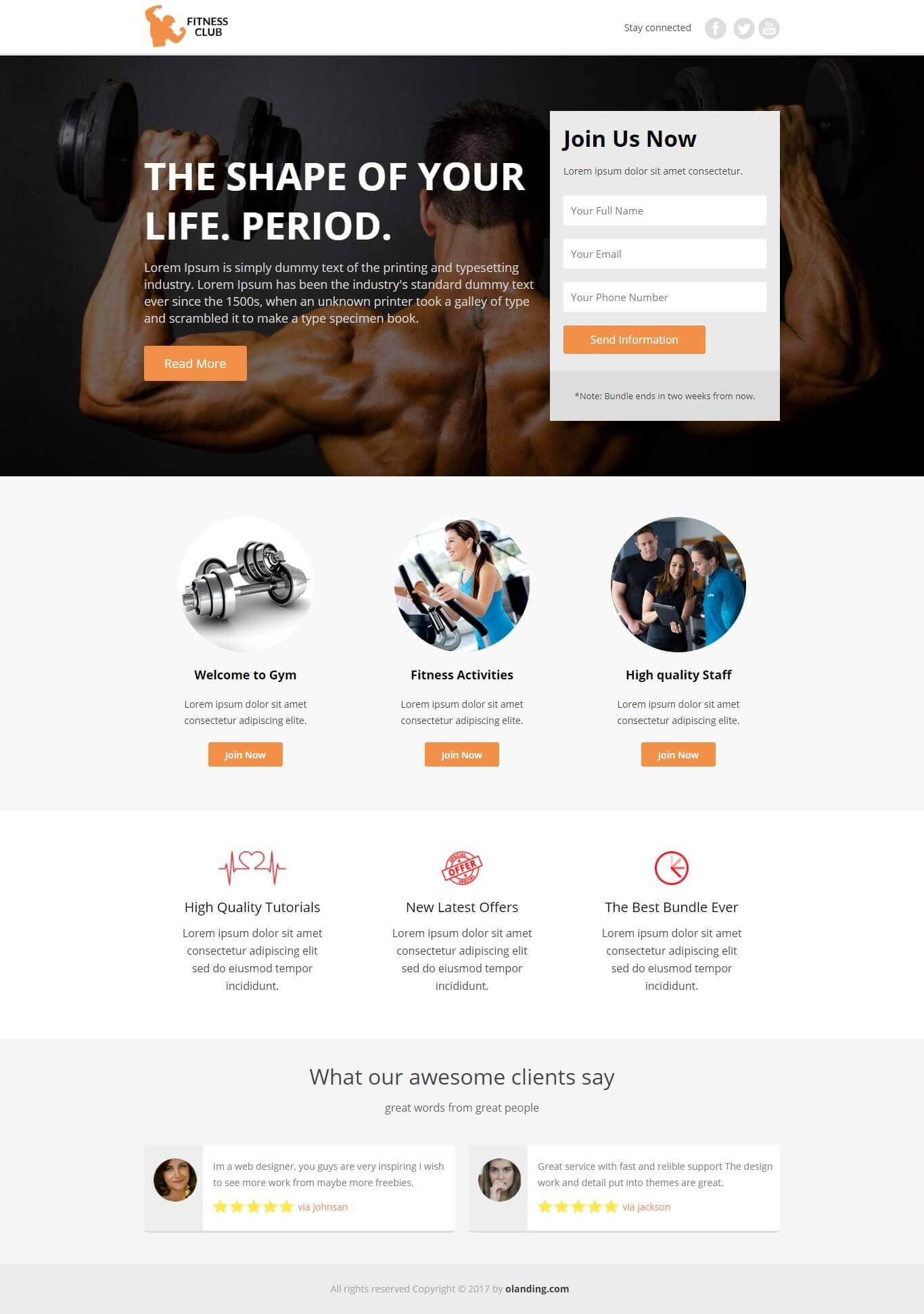 How to build a landing page the proper way.
Anyone can slap in designs especially as it has been made so easy through editable online templates… however, what would distinguish you from the competition is how well you can give life to your landing page…
There are 9 core elements on a high "converting landing page". to answer the question "How to create a landing page that converts"? understand the elements below
Your Unique selling point(USP)
The main headline
A supporting headline (Sub-title heading)
Images or video about your USP.
Social proof ( client logo/Testimonies from clients/ partners or media)
PAS formula
About product/services
The benefits of your offer
Persuasive offer with A single conversion goal – your Call-To-Action (CTA) (with or without a form) with a sense of urgency( SOU)
1 UNIQUE SELLING POINT
USP, also known as "unique selling proposition" is where you present the core description of what your landing page is about.
A unique selling point states your company's unique position in the marketplace, This is the value you offer and the problem you solve.
A solid USP clearly distinguishes your business from your competitors, it is what makes you stand out.
The unique selling point can be broken down into 2-page elements, which collectively
tell the story of your offering throughout the landing page:
The main headline supporting headline (Subheadline)
2 THE MAIN HEADLINE
Your headline is the very first thing that prospects will see and read. It's essential to clearly describe what a visitor will get from the page (its goal) and that the message should be strong enough to show the visitor that they are in the right place.
For example, this VideoFruit's landing page is clearly targeted at beginners as most experienced or advanced marketers know what an email list is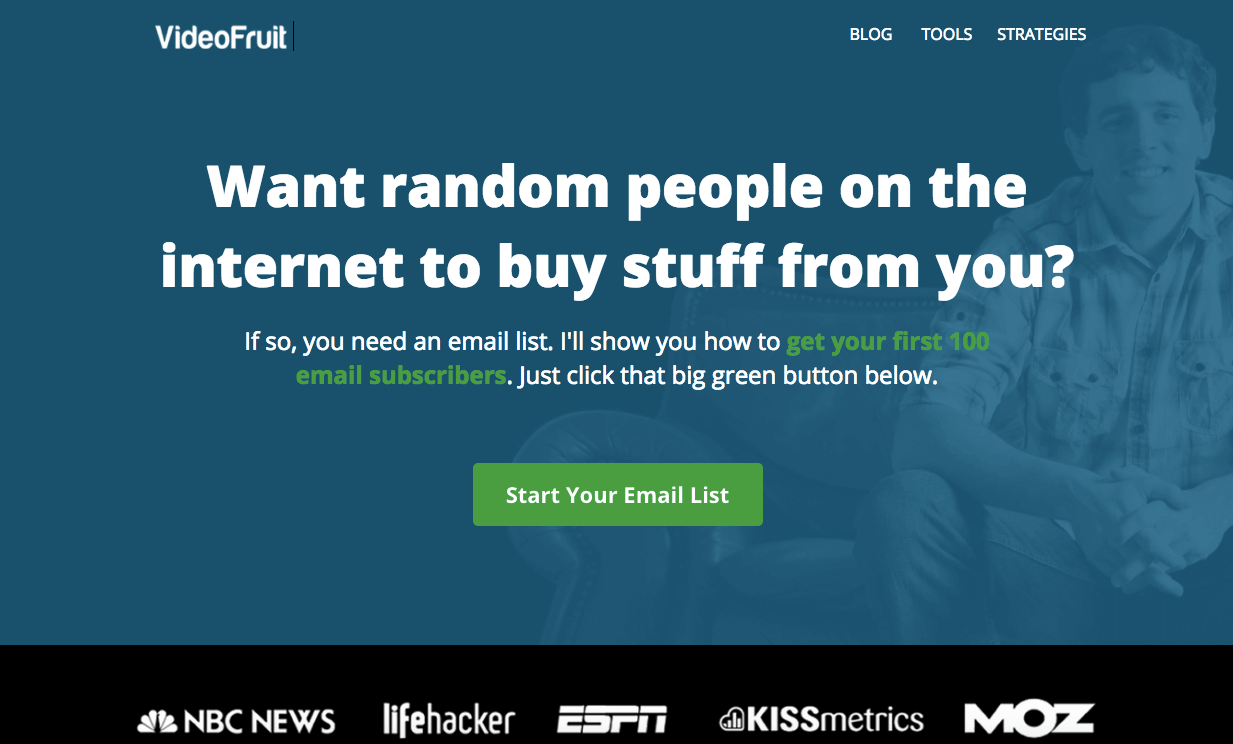 3 SUB HEADLINE
Your main headline is limited in what you can say if you want to keep it short and easily digestible, the best way to write a short and sweet headline is to add a sub-headline as in the landing page example above.
This can be used in two different ways:
1 As a direct extension of your headline, which follows the primary headline in such a way that it's like finishing a sentence?
2 To extend the message on the landing page by applying an additional persuasive message to support the main headline.
4 IMAGE OR VIDEO ABOUT YOUR LANDING PAGE UNIQUE SELLING POINT
This is the section that explains the graphical image or explainer video of your product or service, which is designed to make it stand out as something worth attaining.
For example, If your landing page is to promote the sales of an ebook, products or services you offer, In this case, it's the image of an eBook, an image of the product or services.
You can also showcase based on the type of product or service you are promoting example includes:
5 SOCIAL PROOF
Social proof is a powerful persuasive concept. Simply put it's the use of positive reviews and comments which illustrates that other people have bought or used what you are offering.
Using social proof on your landing pages can be a powerful addition to your marketing strategy to address doubt and hesitation.
The concept is that you are way more likely to convert If your prospects see that other people before them are converts and were happy they did.
All smart marketers add social proof to increase the conversion rate on their landing page. That's why big brands like Amazon, WordPress, Mail Chimp, and just about every other company, use social proof on their site.
Examples of social proofs are:
Customer/client testimonials
Case-studies
Numbers of shares on social media platforms
Numbers of users/downloads if you run or promote an App.
Embedded social media post(Reviews)
Other Ways to Gain Trust On Your Landing Pages( Trust Indicators)
Trust seals
Privacy policy
6 Use this copy writing formula "PAS"
according to Dan Kennedy founder of "Magnetic Marketing," PAS – Is the most reliable sales formula ever invented
PAS stands for (Problem, Agitation Solution)
Problem – Identify and describe in detail a problem your target audience encounters
Example -Obesity
Agitation – Remind them how annoying/appalling that problem is in such a way that they feel it in their guts to the point where they feel the need for a solution Asap…
Example- problems caused by being obese
Solution – Be the Hero Present them with your one of a kind solution to ease their problem
Example: weight loss tea, Gym equipment …etc
You confront your audience with a problem you know they experience, talk about what they are losing from not buying your product or services and also show them what they stand to gain when they purchase the product or services or sign up to your newsletter, whatever the goals may be.
7 ABOUT THE PRODUCT/SERVICES
Give detailed information about your product and services and how your clients have used your offer to get the desired result or outcome.
8 BENEFIT OF YOUR OFFER
Write the benefit and features of your offer on your landing page preferably as bullet points ( create a compelling benefit your prospect will stand to gain on your landing page).
9 PERSUASIVE OFFER WITH CTA + A SENSE OF URGENCY.
Use persuasive copy to get your readers to take the action you want on your landing page.
An example can be free trials, bonuses, coupon free downloads etc, get creative with it, just make sure it is an offer your prospect can't refuse, go all out to get then take an action on your landing page
Your landing page components need to work together to convert your prospects into action-takers: A compelling offer, good design, purposeful formatting, and persuasive writing.
Don't forget to include a sense of urgency in your call to action. And that is how to create a landing page that converts like crazy.