The pandemic has made most organizations participate 100% in the digital economy to continue offering services to their customers. Most organisations are now coming to realise that digital skills are vital for employees if they are to compete in the digital era. The demand for these top 10 tech skills listed below is very high, but with a low supply, "TechBros" and "Sis" skilled in at least one or more of these skills command premium salaries. This list covers ten of the hottest tech skills in demand for 2022 and beyond and why you should learn at least one starting today.
Top tech skills in demand for 2022 (Ranked top to bottom)
Pogramming/software development
Cyber security.

Cloud Computing.

Blockchain Technology.
Virtual Reality/ Agumentated Reality(Ar/Vr).
Data scientist.
Ai/Machine learning.
Ui/Ux Designers.
Project managers.
Digital Marketing.
This list of the top 10 tech skills to learn for 2022 is ranked based on demands from employers in these categories and the average salary for each role.
It is more essential than ever that new employees are cross-disciplined and have both hard and soft skills. let's take a deeper look at each of these highly demanded tech skills in high for 2022 and beyond.
1.Programming & Sofware Development.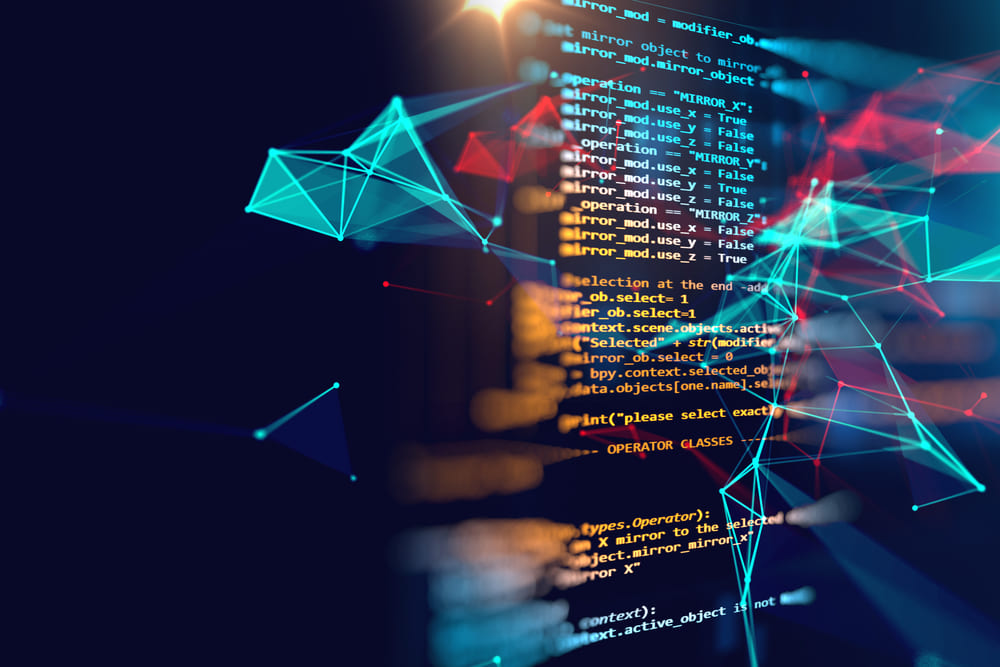 At the core of any tech products and digital service is coding. Most apps and websites are built with programming languages like jQuery, Angular, Code Igniter, PHP/JavaScript and MySQL.
These skills are listed frequently in the top 10 most in-demand by employers on LinkedIn. Having a portfolio of projects demonstrating your coding skills can also help you land your dream role.
Coding is also vital for fast-emerging technologies like augmented reality (AR) and virtual reality (VR). Coding provides AR and VR Developers with the foundation skills needed to develop the next generation of AR and VR technologies.
The top 5 most popular programming languages are as follows:
Javascript: Javascript is the most popular programming language in the world and is in high demand among many organizations. JavaScript is a high-level programming language that is one of the core technologies of the World Wide Web. It is used as a client-side programming language by 98 percent of all websites.
2. Python. Python is one of the most famous programming languages today and is relatively easy for beginners to learn. In a non-tech business environment, python is popular among managers, analysts, and marketers. They use Python to work with data in tables and databases. Python is also used to develop 2D imaging and 3D animation packages. It has also been used to create popular video games, including Civilization IV, Vegas Trike, etc…
3. Java. A universal language for web and mobile application development. Most Android applications are written in Java.
4. C++. A popular technology for graphics-rich programs like photo and video editors and games.
5. C#. One of the top languages for desktop software development and games.
Job description of a programmer/ software developer.
the job description of a programmer or software developer can feature
Researching, designing, implementing, and managing software programs
Testing and evaluating new programs
Identifying areas for modification in existing programs and subsequently developing these modifications
Writing and implementing efficient code
Determining operational practicality
Developing quality assurance procedures
Deploying software tools, processes, and metrics
Maintaining and upgrading existing systems
Training users
Working closely with other developers, UX designers, business and systems analysts
Average salary: $118,991 per year
2. Cyber security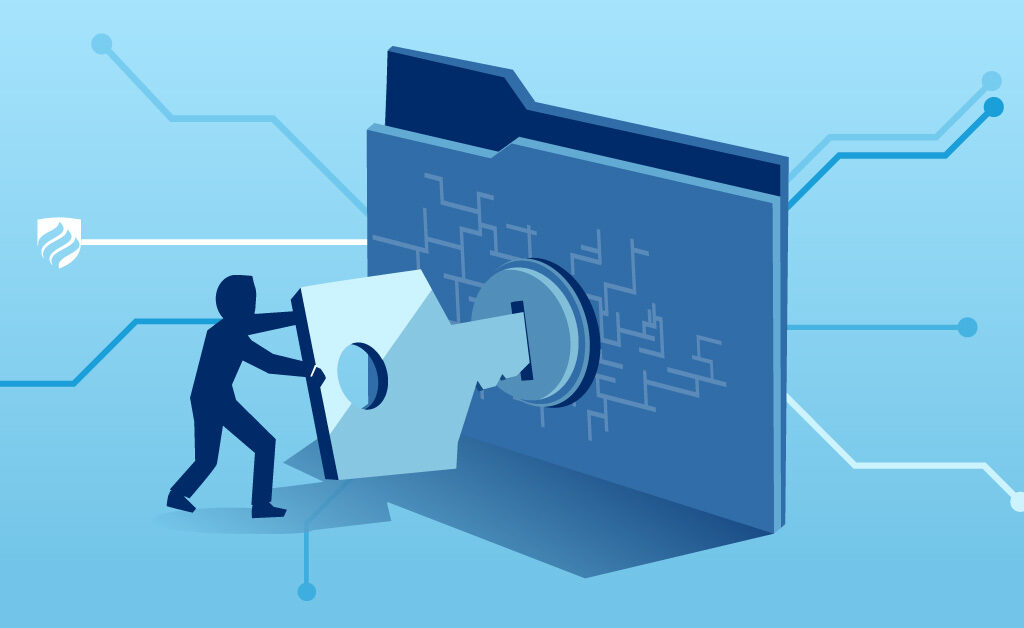 Cyber-security is one of the top technology jobs in demand. Ads rightly so because the total amount of data we generate as humans are huge! Some of which are very sensitive. So there's a need to secure these sensitive data and prevent them from getting into the wrong hands, most businesses need a cyber security specialist especially those dealing with confidential customer data and information, like Banks and Governments.
The skill gap is still yet to be bridged and many businesses are in search of professionals who are able to provide cybersecurity for their businesses in order to keep their networks secure from malicious attacks.
We live In a time where Cyber theft is growing, cybersecurity sounds like one of the hottest tech skills you should definitely consider building your career around.
Specialists in cyber security are among the most sought-after professionals by businesses in the tech sector.
Job description of a cyber security specialist.
Create Built-in security during the development stages of software systems, data centres and Network.
looking for possible vulnerabilities and risks in hardware and software.
Building firewalls into network infrastructures.
Constantly monitoring for attacks and intrusions.
Identifying the perpetrator and liaising with the police if necessary.
Average Salary: $125,664
3. Cloud computing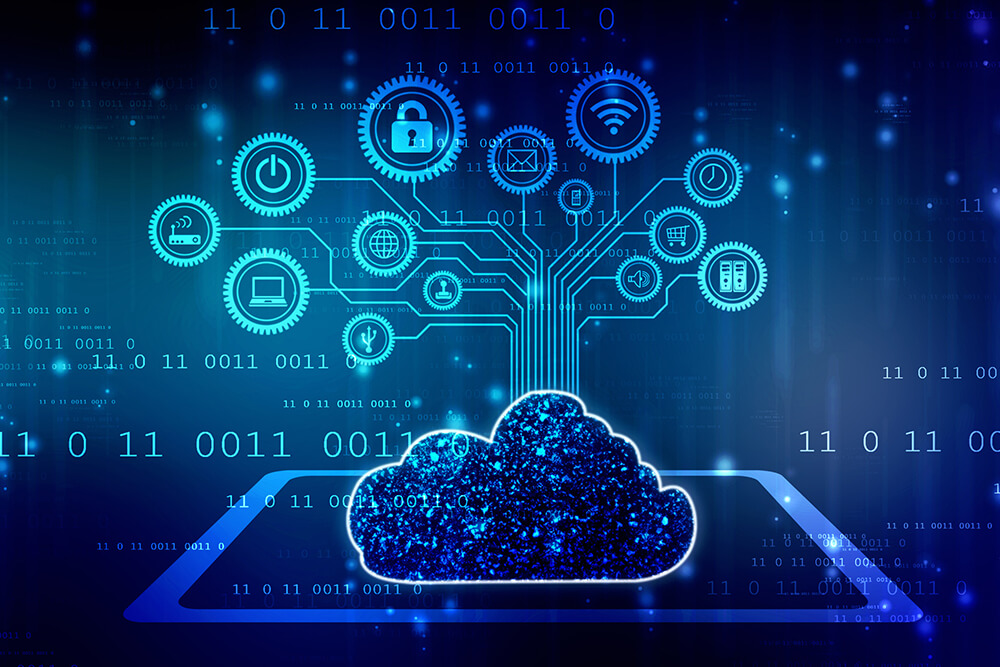 Just behind cybersecurity is cloud computing, cloud computing refers to storing and accessing computing services, such as databases, software, networking, and analytics over the internet with pay-as-you-go pricing, instead of purchasing, holding, and maintaining physical data centres and servers.
According to research, cloud computing experiences one of the widest skills gaps across all disciplines, meaning there are not enough professionals with the skills to successfully do the job.
Cloud computing career requirements
Regardless of what stage of your career you're in, the skills required for cloud computing are the same. You'll need a solid foundation in Programming languages, Database management and programming, Artificial intelligence and machine learning.
Understanding and experience with cloud technologies and providers Like Amazon Web Services(AWS) Some other vendors include Google Cloud Platform, Microsoft Azure and Oracle.
Top cloud computing careers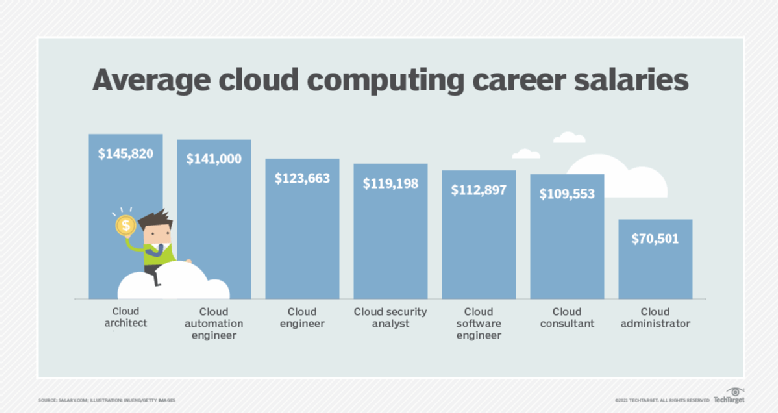 Kindly note that some companies may vary in their job descriptions for particular cloud computing roles and their specific requirements.
1. Cloud administrator
These specialists manage a company's cloud presence and infrastructure. They develop policies for how employees and users access cloud services. They also establish security protocols and policies, monitor and ensure uptime, and make necessary technological updates.
2. Cloud architect
Think of cloud architecture as the framework within which all cloud technologies and services operate. Cloud computing requires a combination of components and subcomponents(These components consists of, a front end platform, back end platforms, a cloud-based delivery, and a network.) a cloud architect's job is to combine, these components that make cloud computing work.
3. Cloud automation engineer
The world has become increasingly automated, a cloud automation engineers job is to build, implement and maintain these automation technologies as it migrates into the cloud. This automation frees up human workers from repetitive tasks.
4. Cloud consultant
A cloud consultant has a broad knowledge of cloud technologies and provides suggestions to companies looking for cloud-based solutions and recommends the most effective solution.
5. Cloud engineer
Cloud engineers are responsible for the administrative aspects of a company's cloud strategies.
6. Cloud security analyst
Cloud security analysts have the duty of ensuring the integrity and security of a company's cloud presence.
7. Cloud software engineer
Cloud software engineers work with programmers and associated computer scientists to develop software that operates in the cloud.
Average Salary: $120,000/yr
4. Block-Chain Developement.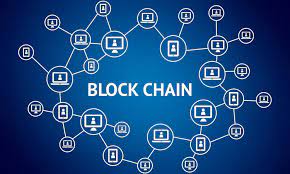 Blockchain is a technology that has created a secure and revolutionary way to, record, transfer and encrypts data in a decentralised form. Blockchain is the technology behind Bitcoin and other cryptocurrencies.
There are two types of Blockchain developers; there's the Core Blockchain Developer and the Blockchain Software Developer.
Average Salary: $154,550 /year.
5.

Virtual Reality/ Augmented Reality(Ar/Vr)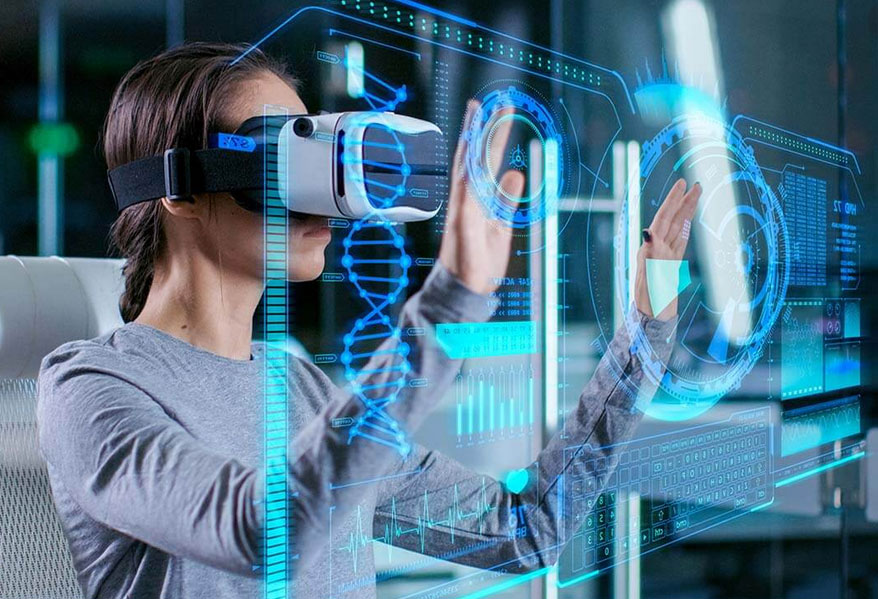 Coming in on No.5 on our list of the top tech skills in demand for 2022 is a job role in VR, Ar and Mr (Mixed reality).
The virtual world is already a reality today and companies like Facebook have invested billions of dollars into the metaverse after announcing the new companies name "META".
AR, VR and MR are also some of the fastest-growing technologies that offer a wide scope of opportunities for aspirants and existing professionals. On a global scale, the AR, VR and MR market has been projected to cross $161 billion by 2025.
The pandemic has accelerated the adoption of new-age technology like AR, VR and MR. and almost every sector, from entertainment like gaming to healthcare, manufacturing and education are using these technologies in innovative ways, making VR/AR developers one of the most sought-after professionals in the tech-powered business terrain.
Job roles in VR/AR/MR.
Design architect
Software designer
3d Artist
System validation engineers
Average Salaries: $114,639
6. Data Science.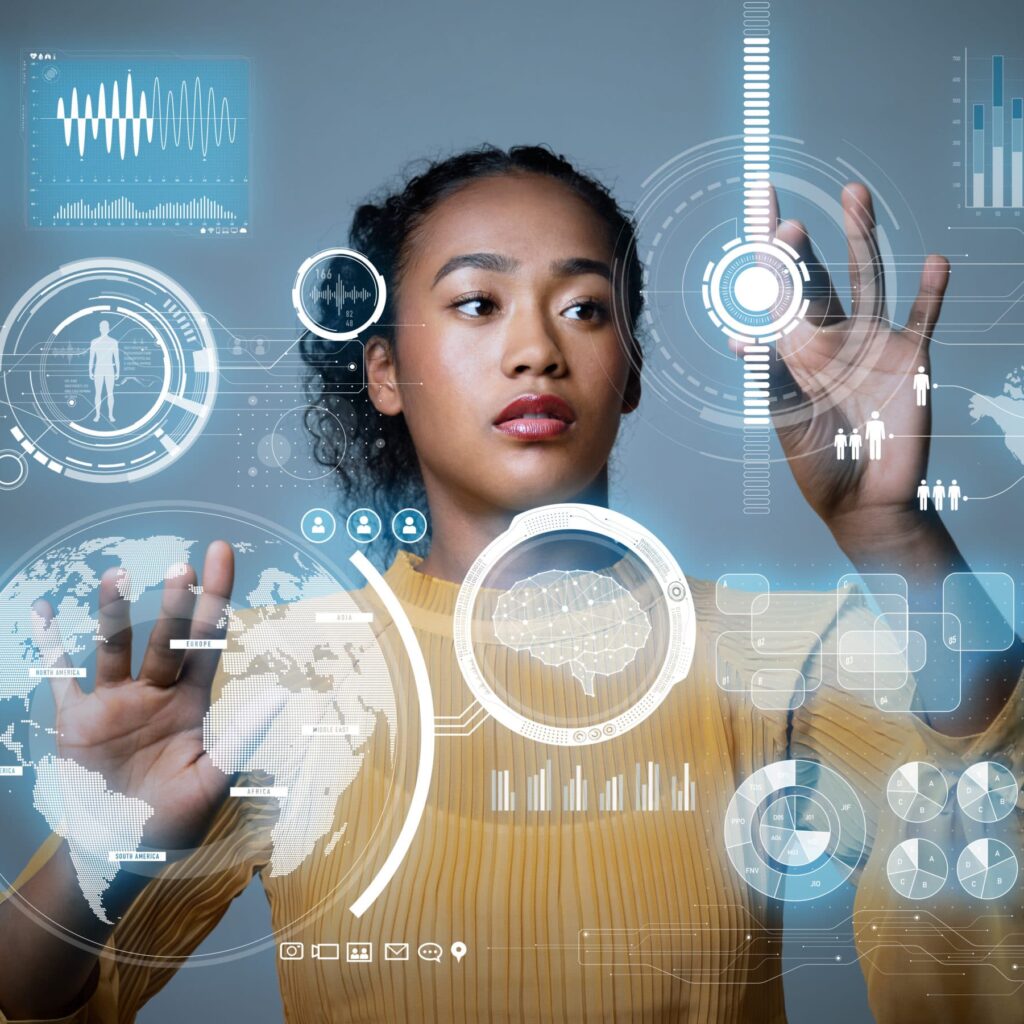 As humans, we generated over 44zettabytes of data in 2020, and it's been predicted to reach over 175zettabytes by 2025. Such a huge amount of data would need to be analyzed, processed and used efficiently.
Data scientists analyze, process, and model data then interpret the results to create actionable plans for companies and organizations. They utilize their skills in both technology and social science to spot trends and manage data.
A data scientist's work typically involves making sense of messy, unstructured data, from sources such as smart devices, social media feeds, emails etc… Which helps organisations and businesses make data-driven decisions.
Average Salary: $122,840 per year
7.Artificial intelligence and Machine learning.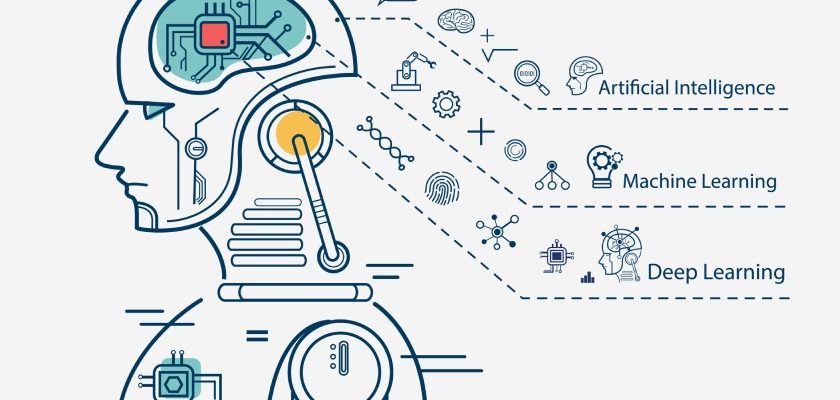 Just a few decades ago its would be hard to imagine computers that can think and make decisions on their own.
But today we have virtual assistants like Siri, facial recognition technology, maps and many other apps and systems that use AI and machine learning technologies
AI is a bigger concept to create intelligent machines that can simulate human thinking capability and behaviour, whereas, machine learning is an application or subset of AI that allows machines to learn from data without being programmed explicitly to do so.
A machine learning engineer (ML engineer) is a person in IT who focuses on researching, building and designing self-running artificial intelligence (AI) systems to automate predictive models.
Average salary: $132,000/YR.
8. UI/UX Design.
A User experience (UX) designer are responsible for forming an optimal experience for the end-user when they interact with a digital or physical product, such as a website or application.
Some focus on service design, like designing the overall experience of visiting a doctor.
UX design refers to the term "user experience design", while UI stands for "user interface design". Both elements are crucial to a product and work closely together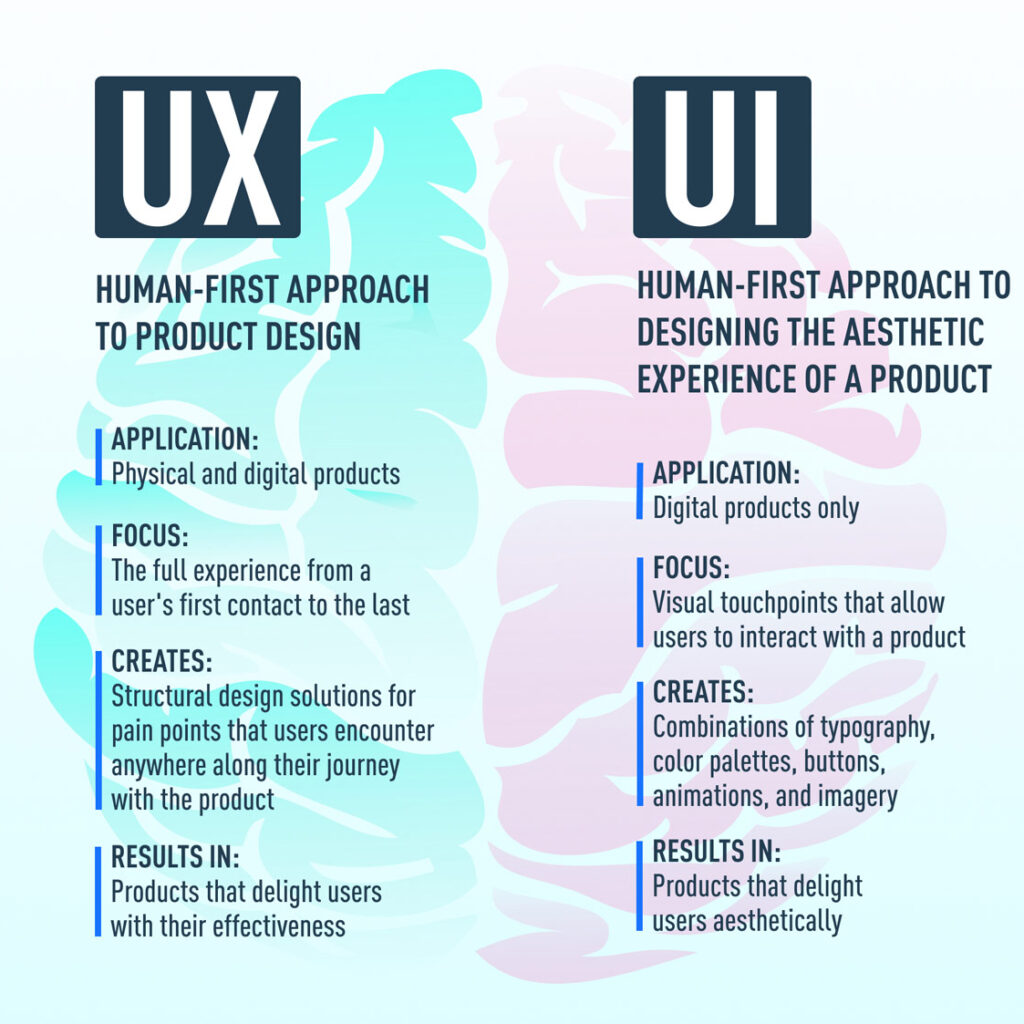 Their main concern is studying users, understanding their behaviour, and architecting a user journey that enables the user to achieve their desired tasks with minimal effort.
Average Salary of $85,277.
9.

Project Managers

.
The role of a Product Manager is mainly to oversee the development of projects from the planning stage right through to completion. Usually, they're the glue that holds teams together and makes sure that everyone is on the right track. It's a varied role and project managers will cover everything from supervising the task flow to holding regular meetings with staff to check-in on progress
When companies are searching for candidates for this role, there are a few things that they will be looking for such as strong analytical skills, management experience, high levels of organization and experience using tools like PivotalTracker or Jira.
10. Digital Marketing
Although ranked no.10 on our list of top tech skills in demand for 2022 and beyond, the demand for a digital marketing specialist is still on the rise.
Every business that exists in this digital era needs marketing in other to be successful. And in the digital economy, there's been an increasing demand for digital marketers.
A digital marketer makes use of digital marketing tools such as Analytics, Facebook ads, SEO, Google Ads etc. To promote a brand.
Average Salary: $80,000