In this article, I would be talking about ways to take advantage of one of the biggest dating sites on the internet and how you as a business owner can take advantage of this to promote your brand/businesses with tinder advertising.
Tinder, the world's largest dating app, has evolved from being just a platform for finding romantic connections to a powerful tool for marketers to reach new audiences and promote their brands. With over 69 million users, most of whom are millennials, and an average of 800 million swipes per day, the app offers an incredibly engaged audience that businesses can tap into.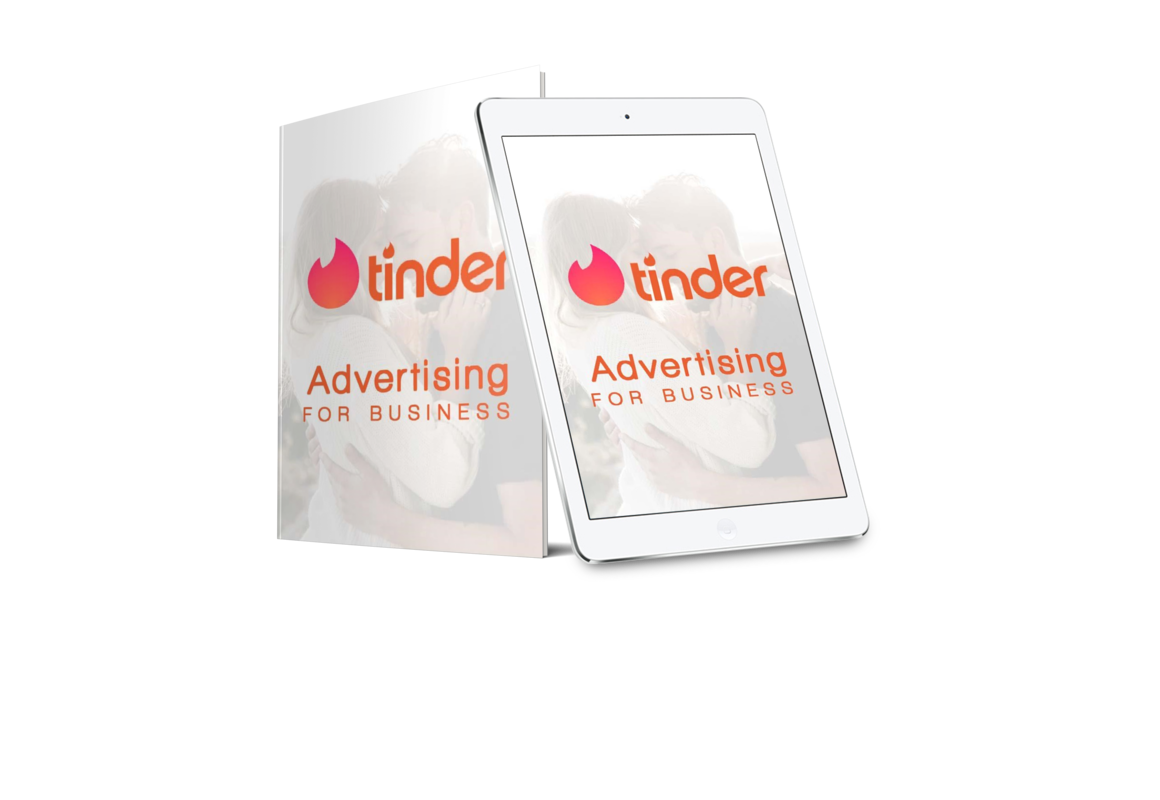 Reach new customers on Tinder with tinder Ads.
After its launch in 2012, Tinder managed to become a raging phenomenon in the online dating arena; reporting over a billion "swipes" a day by the year 2014.

But the Tinder app is not all about dating anymore – marketers are using the platform to advertise their brands and reach new market audiences.
User information on a Tinder profile consists of pictures and basic data pulled from Facebook, a link to the user's Instagram and Spotify account, and a short bio unique to every user on the dating platform.
The app is popular for its "swipe right" and "swipe left" and recommends potential matches on the basis of location and common interests.
Today, Tinder has evolved from being a world-famous social /dating app to become a place where marketers can advertise their brands.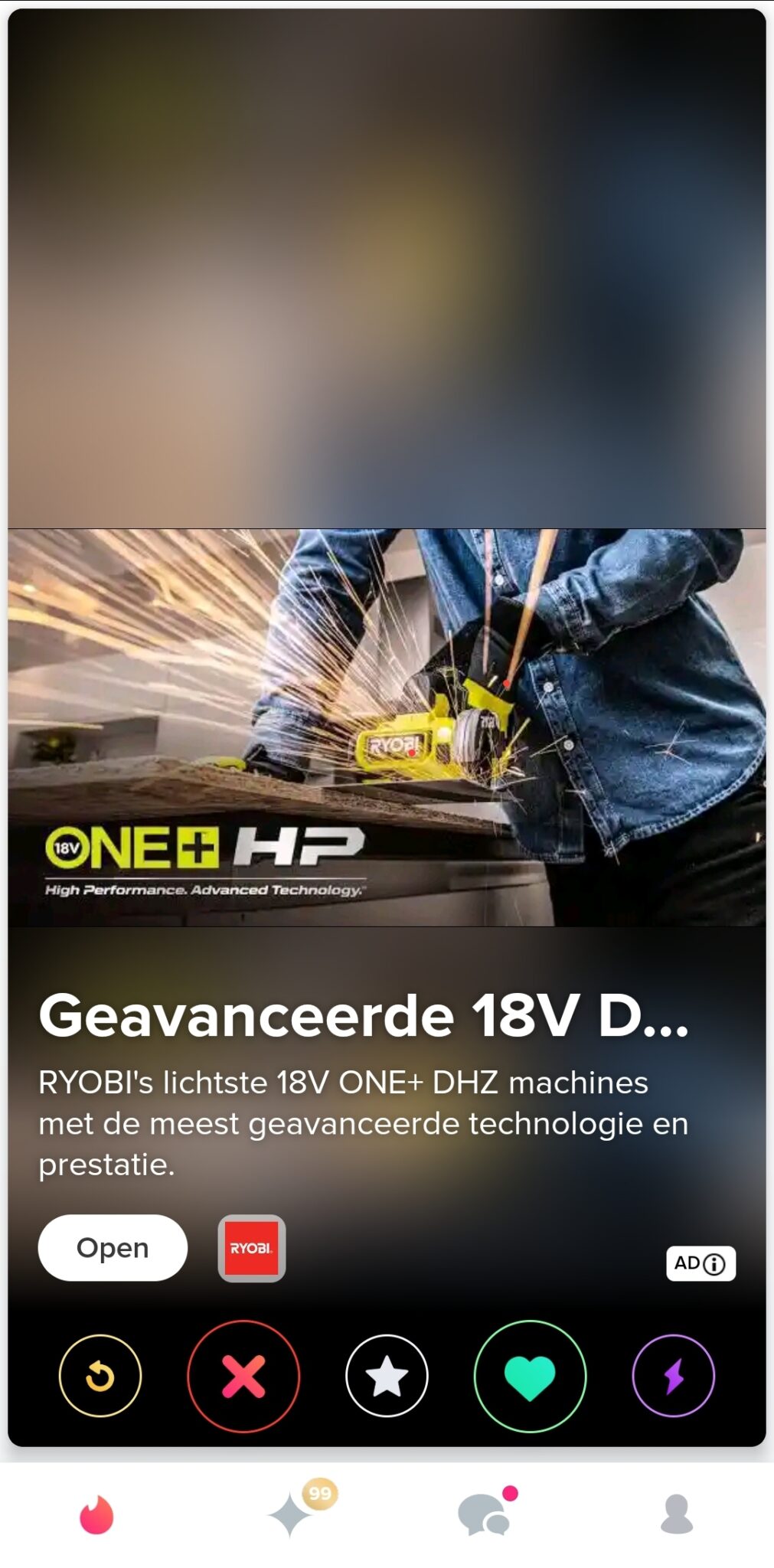 Of note is the partnership the company has with Facebook; which has been forging advertising relationships with companies like Tinder over the past several years.
In fact, today, Tinder advertisements constitute the second-largest income stream for Tinder after its premium subscriptions.
And the results are beyond impressive. According to Facebook,
"ads served through Tinder are 7 times better than banner ads."

That is and many other reasons is why Tinder advertising on Facebook should be taken seriously by business owners and marketers.
Just how Massive is Tinder and why should you care?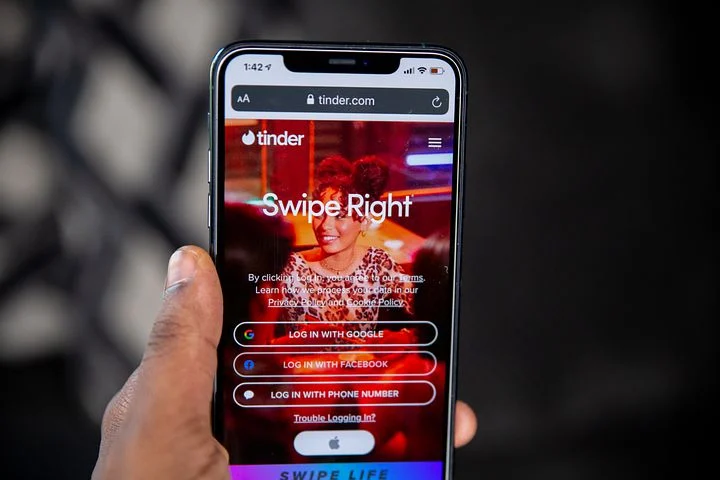 Tinder has more than 69 million users, making it the largest dating app today.
Furthermore, more than 80% of these users are aged between 18 and 34 years, which means most of its users are millennials.
This means Tinder is the perfect place to connect with younger audiences.
Additionally, most other dating apps are a long way from attaining the level of engagement that Tinder enjoys This potent combination of features have turned this dating app into an incredibly popular platform,
which is why its use has extended from helping people find good dates to helping marketers sell products and services.

According to the company's Co-Founder, Sean Rad, Tinder's goal is to make meeting new people like Google made web searches. And statistics about this app give these bold ambitions quite a bit of validity.
Currently, the app is available in more than 30 languages, more than 1 billion matches have been generated using the app since its launch, and about 800 million swipes are reported every day!
Also, about a quarter of Tinder users pay for online dating services; and estimates are that subscribers to the app will make the company $121 million.
This income will raise its worth to over $2.5 billion in the near future.
On average, a Tinder user will spend more than an hour on the app every day.
Still, to most users, Tinder is nothing more than a dating app.
But the good thing is that as long as the platform's ability to help people find romantic connections is maintained, the introduction of ads will not be an issue for many users.
Other social media platforms have become goldmines for marketers in search of customers, and Tinder is no exception.
If anything, Tinder offers a better proposition for marketers than most other social media platforms.
As noted earlier, millennials dominate Tinder's user base.
The reason behind this interesting observation is that this is the demography most predisposed to using their mobile devices.
Why the massive numbers matter if own a business.
The above facts and figures about Tinder should arouse the interest of many marketers, and they have.
Many companies and organizations have worked with Tinder to promote their products, and the results have been nothing but impressive.
Given the massive number of users the platform enjoys, business owners who choose to use this app will have easy access to a large audience.
According to information from the Global Web Index, a majority of Tinder users like to try new products, are brand conscious, regularly tell their friends about new products and services.
They also consider themselves better off than average people, this should be music to your ears as marketers or business owners in search of a ready market for your products and services
Benefits of Tinder Advertising on Facebook
1. Better User Engagement
One of the leading benefits of Tinder Advertising on Facebook is that it offers greater user engagement. Unlike regular social media sites such as Facebook, Tinder marketers enjoy unprecedented levels of user engagement.
For instance, advertisers who use Tinder can expect that users will rave about their products and services to other users. This engagement should create a viral advertisement chain that should make their ad campaigns a lot more successful.
2. More Targeted Advertising
Tinder adverts tend to be more focused than most other advertising campaigns, which makes them more effective.
Basically, a user gets to focus on a single ad when swiping through potential matches. Therefore, when a brand's profile comes up, that brand gets undivided attention from the user as it takes up the entire screen.
This creates a greater impact since the user has to view the ad in some way before swiping or hitting the "X" button. Many social media platforms cannot match this level of engagement.
3. The Best Of Programmatic Advertising
There has been a surge in programmatic advertising, the sort Tinder advertising on Facebook offers. And since over 70% of display ads on Facebook today are of this nature, Tinder is a very good way to exploit this brand promotion method.

There are about 4 million advertisers using Facebook, and many of them use programmatic advertising. Tinder does these advertisers one better by ensuring that they get access to a massive and highly engaged market audience.
4. Greater Potential for Paying Customers
Tinder has more fans who are willing to pay for dating services. This is good news for advertisers because it means they will have access to an audience that is willing to pay for a good product.
Even sites like Match.com, known to offer "deeper" connections than Tinder don't have such a huge number of people willing to pay for services.
5.More Convenient for Users to Connect
With most other online ads, users have to make the conscious effort to click on the ad to learn more about your products and services.
Most people tolerate ads, so the odds of them going out of their way to seek them are anything but promising. And that's if you are one of the lucky marketers whose ad is even noticed by the user. With Tinder, the user has to see your ad because it is all that their screen displays.
More importantly, making the choice to learn more about your product is much easier since all they have to do is swipe right; which is an action they are familiar with from using the app to find dates.

Statistics indicate that nearly a quarter of users will swipe right on brands. This goes to show how much potential this platform offers to brands that can master the
art of marketing to the unique audience that makes up the Tinder universe.
6. Lots of Swipes
Tinder gets hundreds of millions of swipes every day. In general, one in 10 to 20 swipes relates to a brand. Clearly, this means that you have an amazing opportunity to be viewed by millions of users when they choose to advertise on Tinder.

And given the better-quality exposure, the platform has to offer, you should jump at the opportunity to market your brand on Tinder.
When users swipe right and choose to connect to you, you will have a chance to provide more information about your product and this is more likely to result in a sale
How Tinder advertising on Facebook Works
The partnership between Tinder and Facebook allows marketers to buy ads programmatically. Under this arrangement, focused in-app adverts are visible to Tinder users, thanks to Facebook's ad network. Consequently, Tinder advertising on Facebook has a lot to do with learning how to advertise on Facebook's Audience Network.
A step-by-step guide for Tinder advertising on Facebook.
Step 1-Create a Business Facebook Account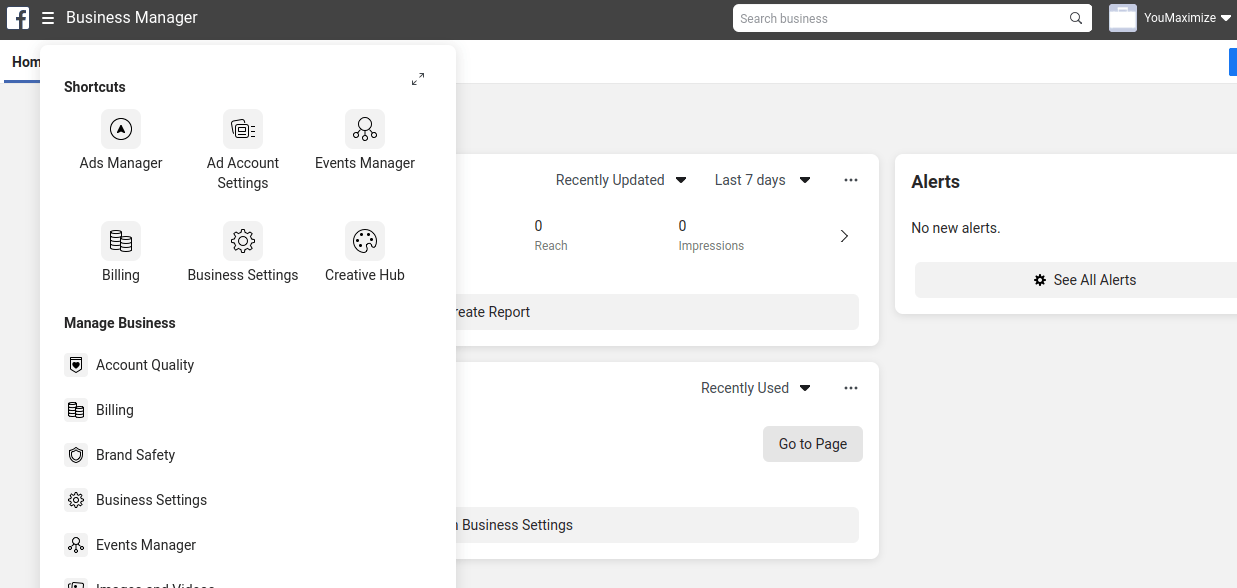 You can use Facebook ads only if you have a business account. So, you have to create a fan page for your business. Click here to create your account now.
Step 2-Go to "Ads manager" to create an Ad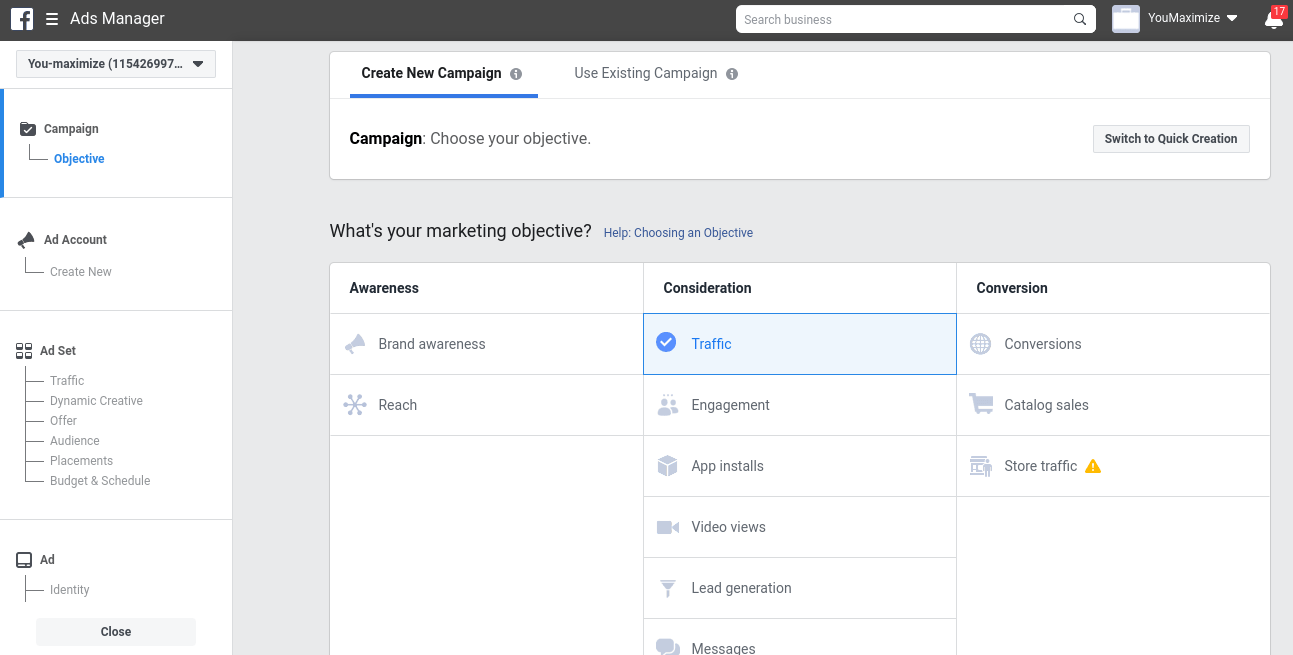 You can create a Facebook ad using the provided procedures. Note that the site will choose "all placements" by default. This will mean that your app can be viewed on desktop and mobile sites
Native ad formats by Facebook will be seamlessly integrated into Tinder's user interface, which should come as an extra convenience. In fact, this format is better supported than any other alternatives you might have in mind. So, it is pointless to consider creating your ads in other formats
Step 3-Make Sure Your Ad is Appropriate for Tinder
While using Tinder advertising to market your brand, it is important to remember the nature of this platform's user base. People use this social media app to find romantic matches. So, trickery when drafting your ads might appear to be in poor taste and consequently reflect badly on your brand.
Therefore, you should design ads that strike a chord with the viewer's emotional desires. Also, make an effort to demonstrate that you actually care about the viewer in one way or another.
Step 4-Create an Appropriate Ad Description
When creating the ad, you will have the option of scripting its description. Among the details to include are the general attributes of the users you are targeting with the ad. For instance, you can choose the age, gender, location, hobbies, and interests among other things. You should know that your ads are viewed by Tinder users who fit the descriptions you make about your target audience.
Creating an account is free, and you will get to choose whether you are a local business, a brand or a product, a company, an institution, a charitable cause or a community and so forth. With the fan page in place, you should select the "Go to Ads Manager" option to start the process of creating an ad campaign.
As you already know, Tinder is the favorite of 18 to 34-year-olds, who account for more than 80% of the users. Therefore, you should ensure that your ads are appropriate for this age group with regard to the products you are selling, pop references you are using in your ads, and the language you are using to get your message across.
So, even if your brand sells products that cut across all age demographics, ensure that the ads that end up on Tinder are appropriate for millennials. Otherwise, your advertising efforts might be a waste.
Step 5-Choose Audience Network as a Placement Option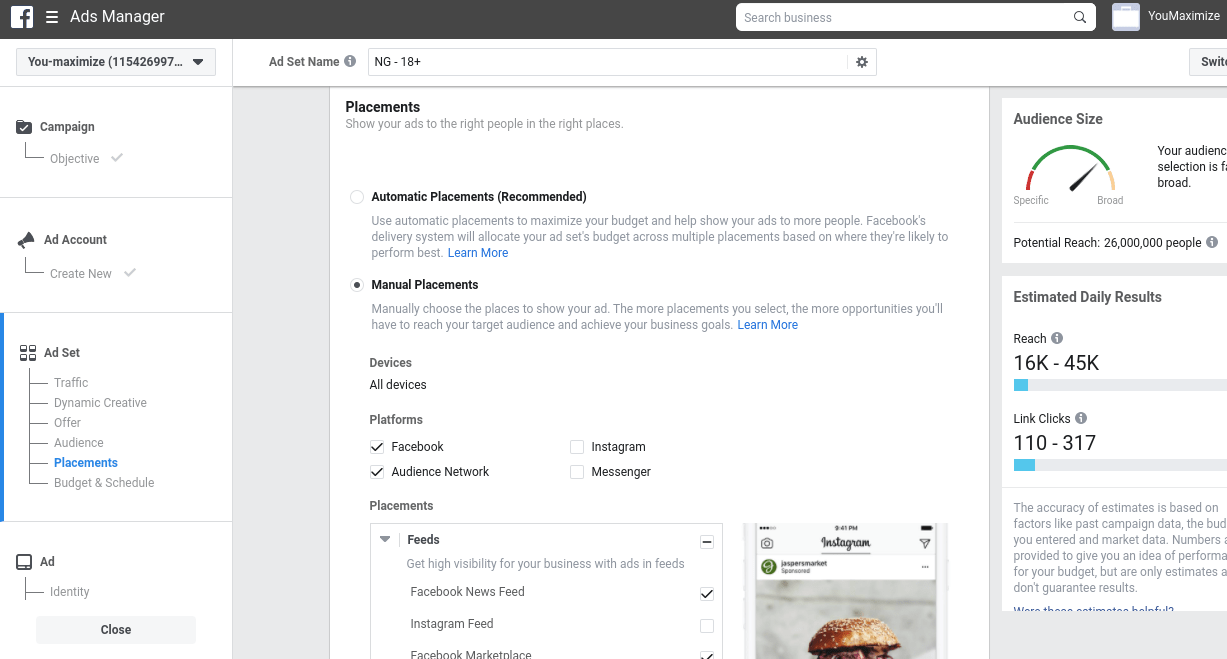 While choosing which placement options to use and which alternatives to do away with, make sure you go with Audience Network as one of the placements.
Once you make an ad to be displayed on Tinder using Facebook's Audience Network, it will automatically qualify for display on "all placements", Tinder included.
Tinder app is included in the Audience Network's "dating apps" category. So, by default, you can have your ad displayed on Tinder when you advertise or use a marketer who uses Facebook's Audience Network.
But if you are keen on having your ads shown specifically on Tinder, you can opt out of other apps.
Tinder advertising with Google Ads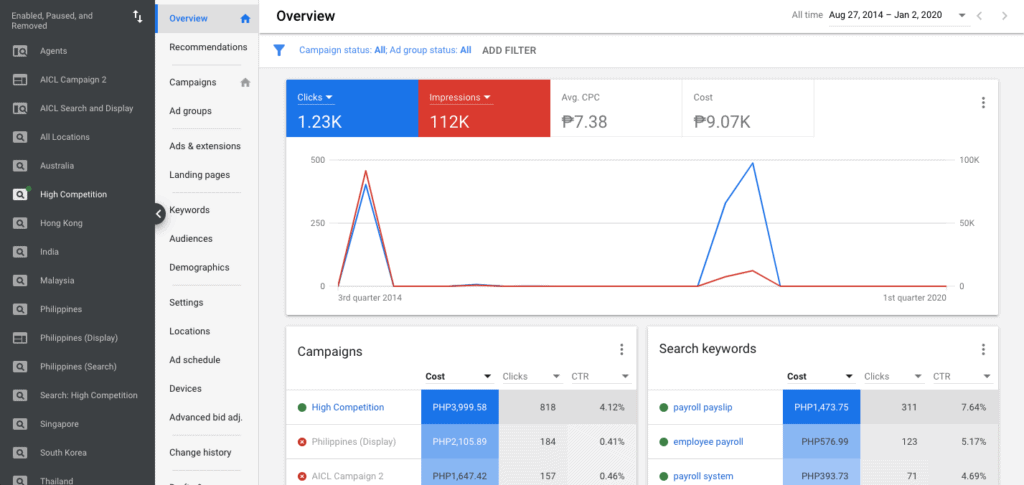 Step 1: Go to Your Google Ads account.
To create an account, visit the Google Ads webpage and click on "Start Now."
Next, validate your payment information, enter a valid credit card, and click on "Submit."
Step 2: Start a New Campaign
Once you're logged into your Google Ads account, create a "new campaign".

Step 3: Set Your Campaign Goal and Type
Next, click the "website traffic" section as your campaign goal for your Tinder Ads.
Scroll down and select "Display" as the campaign type.
Finally, for this level enter your website name at the bottom and click "Continue" when you're done.

Step 4: Create a Target Audience for Your Tinder Ad Campaign
This is where you start defining your target audience for your Tinder ads.
Select your audience locations.
Choose your audience languages.
Click on "more settings" for a list of advanced tweaks you can make to your campaign.
When you're ready, click on "Next."
Step 5: Add Your Budget
Input your advertising budget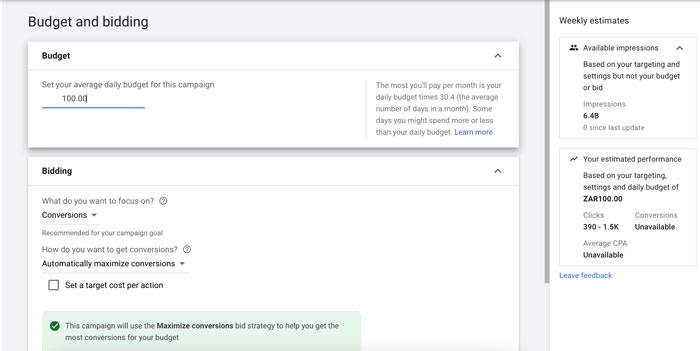 Step 6: Set Your Ad Placements
Click on "placements" to define where you want Google to show your ads.
This is where you'll select Tinder to make sure it shows up on the app.
In the browse section, select "Apps" and type "Tinder" in the search bar.
Tick the checkbox next to the app, and click "Done."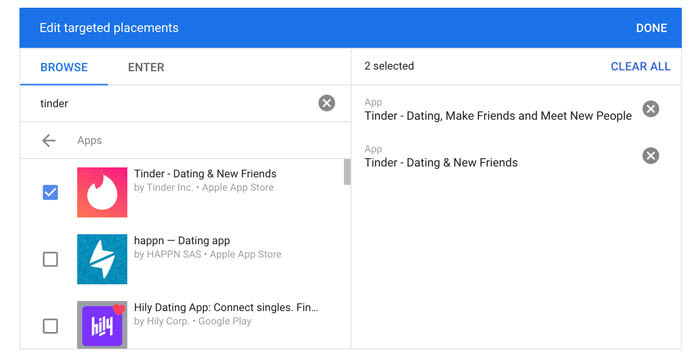 Now all that's left to do is finalize the description and creatives for your ad, and you're hooked up!.
Summary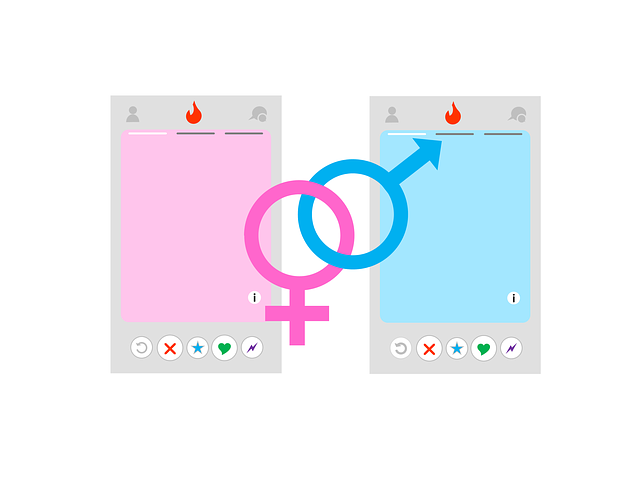 Marketers never seem to run out of ways to get to their audience. Otherwise, who would have thought a dating app like Tinder would turn out to be such a rich hunting ground for marketers?
But marketers with incredible foresight did, and the truth is that this advertisement channel works. Similarly, if you learn a few tricks to proper Tinder advertising on Facebook, then you are well on your way to enjoying access to an audience that is engaged, cares about branding, and is keen to tell on products and services it likes. These are just some of the benefits businesses advertisings on Tinder can look forward to enjoying.
Also, this app has about 50 million users; which is another good reason you should consider having your ads served through Tinder if you are a marketer.
All you need to know is how Tinder advertising on Facebook works, and the guidelines provided above should help you in this regard.

So, say yes to Tinder advertising through Facebook and Google ads; it could be the marketing step you need to take your brand to its next level of profitability and popularity.
If you have any questions or you need help with how to set up Tinder advertising for your brand kindly drop your request in the comment section and we will attend to you as soon as possible.
Resources
https://digiday.com/uk/facebooks-ad-network-extends-mobile-web/https://techcrunch.com/2015/03/12/hate-it-or-love-it-tinders-right-swipe-limit-is-working/http://www.businessofapps.com/data/tinder-statistics/https://lovelymobile.news/tinder-swipes-right-on-programmatic-ads-in-partnership-with-facebook-audience-network/https://www.forbes.com/sites/under30network/2017/01/26/use-tinder-to-attract-new-customers-not-bad-dates/2/#3a1594335a69https://neilpatel.com/what-is-facebook-advertising/#step1https://en.wikipedia.org/wiki/Tinder_(app)http://fleishmanhillard.com/2015/06/true/swipe-right-for-tinder-advertising/https://seekingalpha.com/article/4101623-tinder-swipes-right-ads?page=2https://globaldatinginsights.com/2017/02/03/tinder-partners-with-facebookto-bring-programatic-ads-to-platform/